Protein Hunter Score
Freshness -

9/10

Taste -

8/10

Effectiveness -

8/10
My Protein have released a new ground breaking whey protein powder: Micellar Whey Protein.
Here at Protein Hunter we are going to give you an overview about this new development in the supplement industry.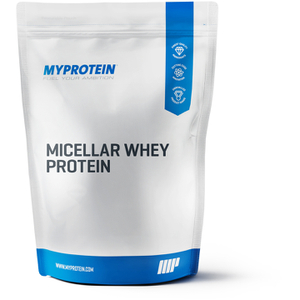 What is Micellar Whey Protein?
Micellar Whey Protein is a ground-breaking protein powder that is more than just your standard whey protein concentrate.
With the amino acid profile of whey, and the absorption properties of casein, it is certainly a new dimension protein powder.
The production process results in the formation of extra-large micelle molecules that have an increased resistance to proteases.
This in turn means that you still get all the properties of whey protein, except with a release rate similar to Micellar Casein, which is generally regarded as a "slow protein".
How Should I take Micellar Whey Protein? 
Take Micellar Whey Protein anytime really, with that either being pre or post workout, or during the day to keep your protein levels up.
Micellar Whey Protein gives 23g of protein per 30g serving which will contribute to the growth and maintenance of muscle mass.
The ultrafiltration process used to produce Micellar Whey Protein ensures a low sugar content, giving only 1g of sugar in each serving!!
This is a big difference compared to the other big protein powders on the market.
Good Tips On How To Use Micellar Whey Protein:
It goes really well with water, almond milk, coconut and milk like most protein powders out there.
Use one of these liquids and blend some ice into it: people are saying that it tastes like a McDonald's milkshake!
As always, along with most other protein powders it is great added into recipes for baking, or to make up with pancakes in a morning.
What Flavours Are Available?
Banana
Vanilla
Chocolate Smooth
Strawberry Cream
Unflavoured
We recommend the Vanilla, but let us know in the comments which you prefer and why.
Recommended Use:
To get the full potential of this product it is recommend to add 1 large scoop (30g) to 200-300ml of water or any of the mentioned liquids above into a shaker, before or after a workout or between meals, up to 3 times daily.
So there we are….
I hope you enjoy this product as much as we do here at Protein Hunter. We were lucky enough to get to try this already, and we definitely think it's worth checking out if you fancy a change from your current protein powder.